Which is the right footmuff for you?
After having invested plenty of time in deciding which is the right pram, pushchair or stroller for your little one, you may then consider a footmuff for a cosy warmer journey when you go out together.
There is a wide offer from pushchair brands, specifically developed for their models which could simplify your decision, but if you look for something more appealing from a style and design point of view, you may want to look into universally fitting footmuffs.
Before entering into potential options, let's briefly summarise the benefits of having a footmuff.
First, the obvious one: it will provide warmth and cosiness to your baby. This will not be restricted to the front body as the back will be also insulated. Second, it will provide more mobility inside vs having bulky clothing on. And last but not least, the design you choose will become that final stylish touch to your baby when going outdoors.
When exploring different footmuffs, I would suggest the following "must-have" features checklist:
Multiple pre-cut holes to allow you to feed through the pushchair's harnesses straps as your baby grows
The right material for your needs: protection against cold, wind, rain,…whilst gentle on your baby….and remember: if you are in doubt whether the footmuff is warm enough or you have put too many clothes on, just check underneath the neck of the baby and you will know!
Convenient zips to make it easier to lift your baby out or to allow removing the top piece to convert the footmuff into a comfortable liner
Universal fitting: review the footmuff's dimensions as the size of a stroller/foldable pushchair is different from those of a standard pushchair. And if you have twins, remember a duet pushchair is smaller than two singles added together!
Machine washable: because you will need to wash them more than once…
In the end, your choice will be linked to the 3 main types of baby "carriers": prams, pushchairs and strollers (American word for a lighter foldable pushchair). Many brands sell 2-in-1 combos to convert a pram into a pushchair or car seat but for illustration purposes, I will stick to this simple classification:
Prams: they are the solution for new-borns up to 6 months. In this case, the baby will mostly stay laid down on the carrycot, and hence, you would be looking for newborn inlays or pram footmuffs which will also enable the baby's body and head to stay in a certain position.
Foldable pushchairs / strollers: this becomes a convenient option for parents with babies older than 6 months. What matters, however, is their strength to support their own head and as each baby is different, always check with your pediatrician before moving your baby to a stroller. The dimensions of these ones are smaller than 2-in-1 pushchairs so make sure the footmuff measures are not too big and that you can secure well the footmuff to the pushchair's handlebars (with straps for example).
2-in-1 pushchairs: These can be normally used up to when your baby is 15kgrs and here again, check the footmuff dimensions despite most will fit as these pushchairs are pretty standard.

Five of Us has recently launched a range of footmuffs that have been designed to meet most features we have covered above. Our atelier in Spain has a deep breadth of experience in the field after 30 years of providing customised nursery accessories to their customers and I am very proud of what we have designed together for you.
All our footmuffs are handmade (taking up to 90mins to be finished) using certified sustainable cotton or recycled fabrics such as Ecovero or GOTS, they are machine washable in low temperatures and in a selection of prints that are characteristic of Five of Us style.
Our Blossom pram footmuffs will fit any carrycot. It comes with a snuggly padding and an adjustable top-piece which you can actually remove in full on warmer days. Also, you have the option to convert the top of the padding into a cocooning headpiece to ensure the right position of your baby's head. You can also use it as a twice as comfortable baby nest.
The Daisy foldable pushchair footmuffs will adapt to your baby's growth thanks to its pre-cut holes. Its versatile double zip system will allow you to bring your baby out of it from either side whilst allowing you to remove the front piece to become a pushchair liner in beautiful prints. It is easy to attach to the pushchair thanks to its adaptable flaps and straps on both ends of the footmuff. This makes it also safer as your baby's feet will not be unattached from the pushchair.
The Marigold pushchair footmuff brings the same Daisy's features: easy to fit most pushchairs, a detachable top piece with 2 zippers, and in a variety of carefully selected prints.

You can combine any of our footmuffs with the new comfy Mums mitten gloves and useful Ivy stroller organizers. All of them, also handmade with the same sustainable approach.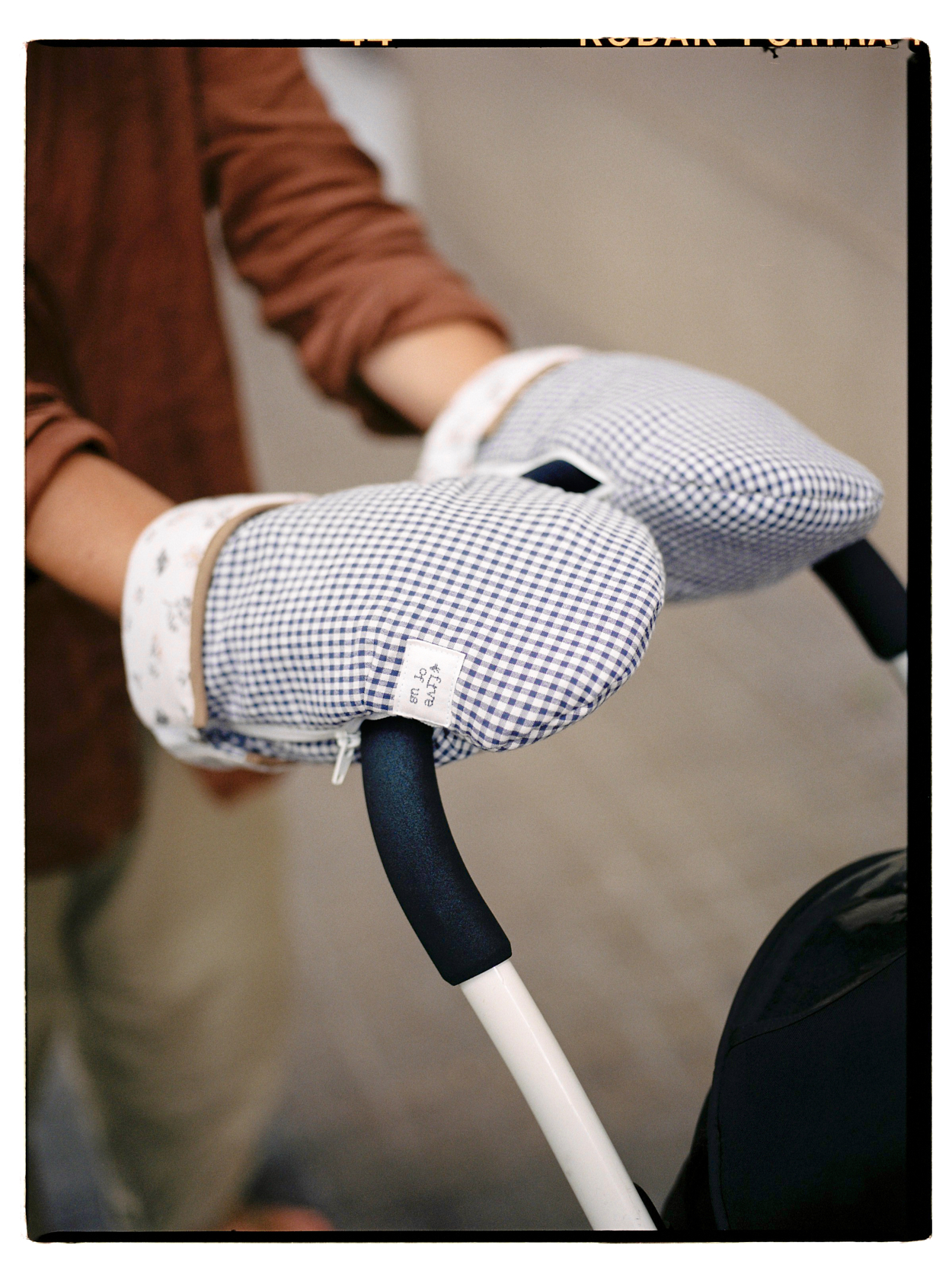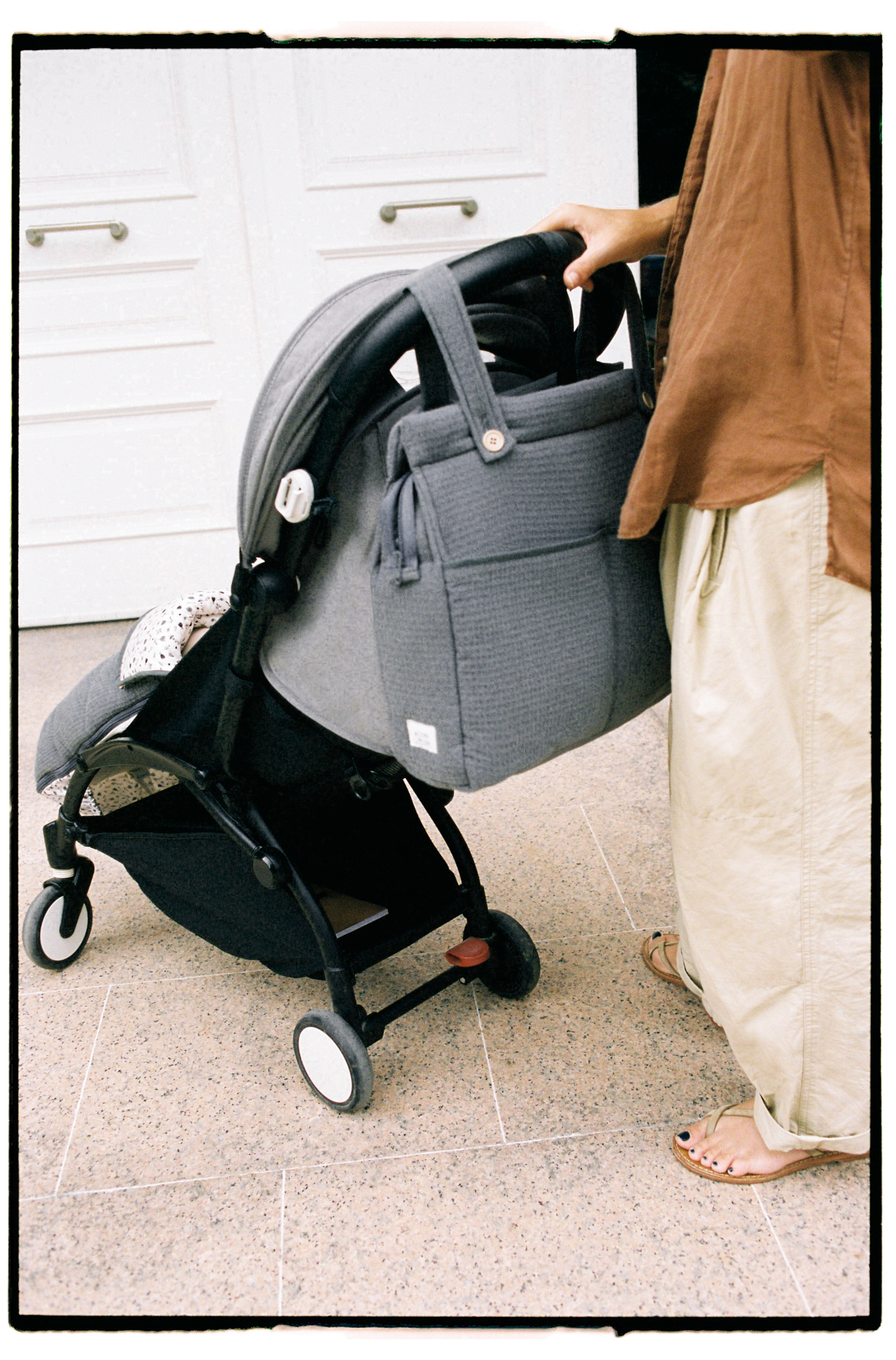 And remember when planning a small walk to be prepared with a baby bag, changing mat or a baby blanket!
You can explore our Nursery collection at www.fiveofus.com.
I wish you all plenty of joyful strolls with your baby!
Queralt Ferrer