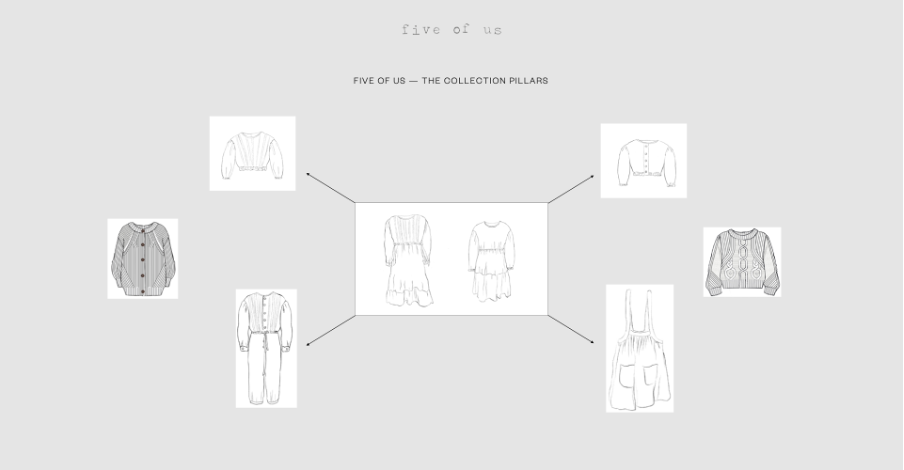 THE INSPIRATION DESIGN PROCESS BEHIND OUR MADE-TO-ORDER COLLECTION.
When designing a garment, there is always an inspiration, which in this case, it was rooted in my childhood happy and playful memories. But there is also a technical side of it that considers not only the design and the style, but also how to make the garment and which materials to use.
Let me share with you a bit of this, taking our made-to-order collection as an example.
THE INSPIRATION
The collection was born from memories of my childhood of playfulness and happiness and it is inspired by the craftsmanship of traditional gowns embellished with lace, ruffles and pleats.
It aims to deconstruct these aspects and techniques, mixing and styling them with cosy knits and thus giving FIVE OF US' garments a wearable, comfortable and relaxed look.
The idea behind it is to create versatile and seasonless garments that can be dressed up or down and aren't just suitable for special occasions.
The high quality of FIVE OF US' fabrics, yarns and finishes will ensure longevity and the ability to pass garments on to family or friends.
DESIGN PILLARS
Our made-to-order collections pillars are based on a core base shape that can be adapted through the use of different fabrics and add-ons. The contribution of our expert artisans after decades of craftsmanship heritage was key to developing designs that could become beautiful high-quality handmade pieces.
THE COLOUR PALETTE
The rationale behind a trans-seasonal color palette of soft neutrals, combined with muted greens and pinks was to create a long-lasting color offering that would feed through all future releases, rather than relying on trend-led colorways that change with every launch.
THE MATERIALS
All our high quality fabrics and yarns, such as organic cotton, Ecovero cotton viscose, recycled cashmere and RWS extra-fine merino wool are sustainable and certified by external bodies.
They offer a super soft hand-feel, giving FIVE OF US' garments a natural and casual look.
Our packaging is equally sustainable.
THE END RESULT: FIVE OF US MADE TO ORDER HALCYON COLLECTION